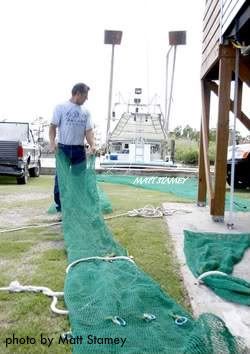 Rodney Pellegrin works in Dulac, La.

to attach two sections of shrimp nets.

Pellegrin said he's frustrated by how

the fishing waters are opened and

closed so often.



By
Kathrine Schmidt
HOUMA — Following the auto industry implosion of 2008, Detroit's unemployment rate stands at nearly 30 percent.
But when it comes to sizing up the lost wages and jobs from BP's catastrophic oil spill to boat captains, deckhands and charter captains in Louisiana, numbers showing the impact on Houma-Thibodaux are much harder to come by.
That's because many are self-employed and work seasonally, meaning their jobs and income are not tracked by state labor statistics. The state's Seafood Promotion and Marketing Board doesn't keep track of that information either, and the Louisiana Workforce Commission did not respond to a request about how they planned to track the job losses.
ReadComplete Story